This season we worked alongside Suzanne Clements and Inacio Ribeiro, the creative husband and wife duo behind Clements Ribeiro who showed at our new show space , Goldsmith's Hall. This decadent old building was the perfect backdrop for a british brand who, after heading design at Cacharel for a 7 year stint, are firmly fully showing under their own label in London again for the second season now, and aren't we glad they are!
The collection was a fusion of the things they love, and what came out of that was a bohemian, eclectic mix of soft pretty muted russian-doll like prints placed with black pleather and strong, bold fuscia colours. The black and white check mohair coat was a favourite of ours, this check was used in short jackets and pencil skirts too.
This season was also about showcasing the menswear side to their business, in particular the geometric, bauhaus-type knitwear pieces which are part of a capsule collection of individually designed jumpers - soon to be released…
Clements Ribeiro teamed up with Jimmy Choo for the show and had the models walking in patent, pointy heels in pink, blue and black.
Take a look at our backstage photos and some of our favourite looks from the collection…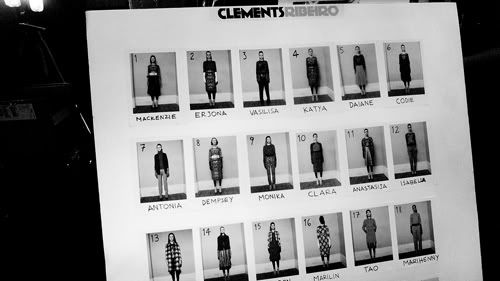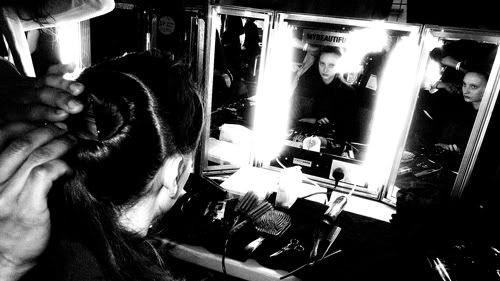 MBF favourite Looks:
Dempsey Stuart (Union) and Hannah Sorheim (Viva)
Clements Ribeiro, Saturday 18th February, Goldsmith's Hall
Backstage Photography : Siausiau Suzuki, www.siausiausuzuki.co.uk
Text : Jasmine Hassett